Historical Origin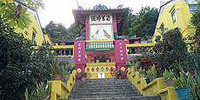 Tsing Shan Monastery (Castle Peak Monastery), also known as Qingshan Chanyuan, is located in Tuen Mun and is one of the three oldest temples in Hong Kong. It is proven by research to be the birthplace of Buddhism in Hong Kong. The earliest history of Qingshan Chanyuan was recorded in the 1464 Dongguan Gazetteer and the 1688 and 1819 Xinan Gazetteer.
In the fifth century, soldiers were posted in Tuen Mun, and all foreigners needed to alight there to complete their entrance formalities probably at the place where Kau Hui ("Old Marketplace") is located today.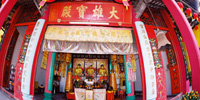 Buddhism was introduced to China from South East Asia between the Wu (222-280 A.D.) and the Lou Song periods (420-479 A.D.). In the mid-fifth century, a Buddhist master landed there. According to the legend, he possessed divine powers and travelled across the ocean in a wooden cup. Thus, he was called "Master Pei Tu". Since there were no monks to administering religious ceremonies in the barracks at that time, Master Pei Tu stayed behind. He went up the mountain and lived as a hermit near the barracks. Therefore, the location of Tsing Shan Monastery (Castle Peak Monastery) is the birthplace [of Buddhism] in Hong Kong.
Master Pei Tu stayed in Tuen Mun before returning to South East Asia in his old age. After his departure, the cave he resided in was enshrined by a Buddhist nun hermit and continued to be worshipped by worshippers. According to the legend, Damo Chanshi [Bodhidharma] also visited this cave in the seventh century, thus making the cave an important place of pilgrimage for nearby Buddhists. In 1829, the To clan built the Tsing Wan Kwun (a Taoist temple) at the nun's residence, and the nun moved into the temple and continued to worship Pei Tu Yan [Grotto of Master Pei Tu]. Chan Chun Ting was appointed abbot of Tsing Wan Kwun in 1914. After that, he started buying nearby lands in preparation for expanding the temple. However, in 1918, Chan was converted to Buddhism (monastic name Master Hin Ki); he stopped the original expansion plan and switched to building a Buddhist monastery next to the Taoist temple. From 1918 to 1930, a new Buddhist monastery—Qingshan Chanyuan—was completed next to Tsing Wan Kwun, and the original nunnery was taken down.
After the death of Master Hin Ki in 1932, dispute broke out concerning the management of both the Taoist and the Buddhist Temples. In 1998, the High Court adjudged the property and management rights of the Taoist and Buddhist Temples. Now Tsing Shan Monastery (Castle Peak Monastery) (not including Tsing Wan Kwun) is being managed by Managing Trustees of The Charitable Trust of Tsing Shan Monastery.