Distinguished Passers-by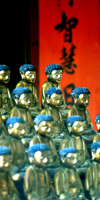 Tsing Shan Monastery (Castle Peak Monastery) is proven by research to be the birthplace of Buddhism in Hong Kong as well as a crucial center of Buddhism in Hong Kong. Tsing Shan Monastery (Castle Peak Monastery) has been visited over the years by numerous personages in the religious and mortal circles.
Li Ke Cheng, the county Magistrate of Xinan County during 1670-1677, saw to reconstruction after the boundary of the County was redrawn, which entailed frequent visits to different places. His travel poems can be found in Xinan Gazetteer, and the lines depicting the scenery in Tsing Shan and the Pei Tu Yiji [Relics of Pei Tu] bear definite evidence of his visit to Tsing Shan Monastery and the cave.
Former Hong Kong Governor Sir Cecil Clementi also visited Qingshan Chanyuan twice in 1927 and 1928. He was superior to other governors in Chinese literary accomplishment, and his inscription "Xianghai Mingshan" [Fragrance Sea and Prestigious Hill] is still preserved on the Pailou [Ceremonial Arch] at the hillside entrance.